Internal medicine physicians primarily focus on the prevention and treatment of adult illnesses.  We manage high blood pressure, elevated cholesterol, diabetes, arthritis, and many other acute and chronic medical problems.  We also focus on the prevention and screening of diabetes, cardiovascular disease, and cancer.
As a patient of Raleigh Adult Medicine, you will have access to an array of medical services.  Below are some of the most common services our practice provides: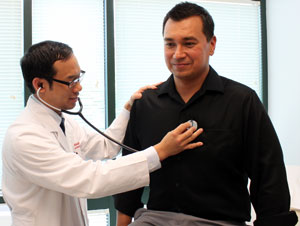 Preventive health exams and diagnostics including routine gynecological care
Chronic disease management
Evaluation and management of adult illnesses and injuries
Acute illness care
Bone Mineral Density (BMD) testing
Cardiac event monitoring
Echo cardiography and stress echo testing
Treadmill stress testing
Ultrasound services
Pulmonary function testing
Pre-operative consultations
Immunizations (or Vaccines)
Cryotherapy of warts and precancerous skin lesions
Raleigh Adult Medicine also provides additional services that are unique to our practice, including:
Coumadin Clinic
Patients who have been prescribed anti-coagulation therapy (in the form of Coumadin) require routine blood testing and monitoring.  We have a dedicated nurse on staff to provide personalized attention to each Coumadin patient.
Saturday Morning Extended Hours Clinic — by Appointment Only
One of our physicians is available on Saturday mornings from 8 a.m. until 1 p.m. for care of acute illnesses. Please contact us for an appointment.
Personalized Primary Care
Our patients will benefit from the ability to receive care from the same primary care physician on each visit. However, in the event that your primary care physician is not available, we will be happy to schedule you with another one of our physicians or our mid-level provider.
You are an important part of the healthcare team. We rely on you to tell us about your health and what is important to you so we can work together to meet your healthcare needs.